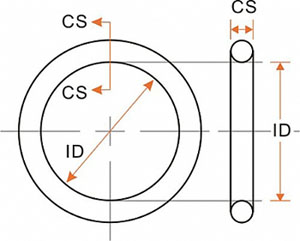 O-Ring, the cutting edge is a "O" shape, which is the most common, classic, economical and useful sealing type in both dynamic and static application.
To understand a basic idea of O-Ring, it is essential you should know:
.The O-Ring dimension formula is very simple, OD = ID + 2*CS
.The popular O-Ring standards are formulated by its location and country
.The O-Ring tolerance has its limitation, when the size is out of tolerance; it means failure will cause leakage.
.O-Rings are made of elastomers which are with resilience or memory sufficient to return to its original shape after a major or minor distortion.